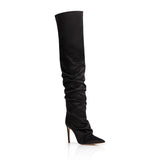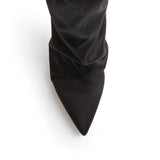 PRIMAVERA MIDNIGHT OTK 100MM BOOT
Complimentary shipping and returns

Primavera reimagines the rouged over the knee bootie with world class environmentally friendly materials applied to exceptional Italian design and comfort for everyday wear. Fully sourced and handmade in Italy by 2nd generation luxury shoemakers located in Marche, Italy.
Heel height: 100MM or 4"
Upper: Sustainable satin
Lining: Upcycled apple skin
Insole: Upcycled apple skin
Outsole: Vegetable tanned leather
Midsole: Recycled cardboard
Sizing: Primavera typically runs true to size.
Pre-orders will ship in 4-8 weeks.
Original designs from scratch

Sourced and handmade in Italy

World class sustainable leather

Lightweight and breathable

Designed to last forever

Apple skin is water resistant

Apple skin is UV resistant