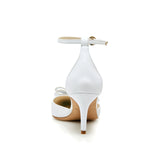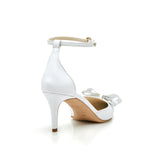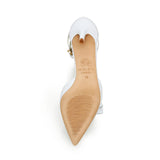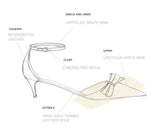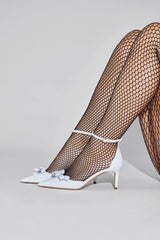 MARGHERITA BIANCO 75MM KITTEN HEEL
Apple Skin 75MM Kitten Heel
Complimentary shipping and returns

Margherita reimagines the iconic pump with world class environmentally friendly materials. Made from upcycled apple and grape skin, discover the beauty and luxury of sustainable and quality craftsmanship.
Upper: upcycled apple skin
Bow: upcycled apple skin
Lining: upcycled grape skin
Insole: upcycled grape skin
Outsole: vegetable tanned leather
Accessory: chrome free brass
Upcycled apple skins and grape skins have a luscious, soft texture. The look and feel are similar to the highest quality Italian leather, as well as durable and long-lasting.

Heel measures 75MM or 3 inches.
Sourced and handcrafted in Italy.
Sizing: Margherita runs true to size.
Original designs from scratch

Sourced and handmade in Italy

World class sustainable leather

Lightweight and breathable

Designed to last forever

Apple skin is water resistant

Apple skin is UV resistant
Design excellence, quality, comfort and style
Contemporary Italian Craftsmanship and Know How
Italian know-how and craftsmanship applied to designing timeless footwear with maximum comfort, exceptional fit and a more than desirable long term life span with eco-friendly materials.
Longevity, Durability and Versatility
Mother Earth Friendly Raw Materials Sourced From Italy
The highest quality of plant-based and environmentally friendly materials applied to manufacturing and designing timeless shoes to last you a lifetime all sourced in Italy.